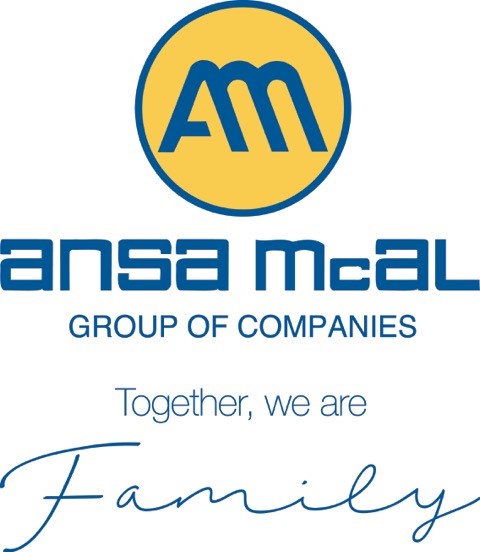 ABEL / Bestcrete officially commissioned its 6th Concrete Block Plant, the Colombia 1600 Facility
ABEL / Bestcrete officially commissioned its 6th Concrete Block Plant, the Colombia 1600 Facility at its Golden Grove, Arouca compound. The completion of this plant and its operations will increase BESTCRETE's annual productivity of concrete blocks by 6 million blocks or by 30%.The newly constructed, state of the concrete block manufacturing plant was built with a capital investment of approximately TT$30M. The plant will have an annual production capacity of six million 6 inch block, bringing the total contribution to 30 million 6 inch blocks annually to the local construction sector.
(l) Dr. Anthony Sabga, Chairman Emeritus, A. Norman Sabga- Group Chairman and Chief Executive
proudly stands before the commemorative plaque with Minister Keith Rowley and Gerry C. Brooks, Group COO.
The Minister of Housing Dr. Hon Keith Rowley, ANSA McAL Chairman and Chief Executive A. Norman Sabga, Chairman Emeritus Dr. Anthony Sabga, ANSA McAL Chief Operating Officer Gerry C. Brooks, Group Manufacturing Sector Head Kelvin Mahabir, Managing Director of ABEL/ BESTCRETE Nicholas Mouttet, General Manager- BESTCRETE Hayden Romano as well as other Group company executives, members of the Institute of Architects, members of professional associations, major suppliers and clients and industry executives were in attendance.

In his address Gerry C. Brooks noted that the formal and symbolic opening of the Colombia 1600 Plant was significant as a manufacturing investment, because it represented the Group's third multimillion dollar investment in the construction sector in four years –
" The ANSA McAL Group's investment in the construction sector between the 2003-2007 period inclusive is close to $TT200M…. the clearest and most tangible evidence of our Group's commitment to Government's 2020 vision in support of our national residential, commercial and industrialization thrust and by extension the Government of Trinidad and Tobago."
(l) Nicholas Mouttet- MD- ABEL/BESTCRETE, Minister Rowley, Gerry C. Brooks- Group COO,
Hayden Romano –GM, Bestcrete and Kelvin Mahabir- Group Sector Head, Manufacturing view the block-making process

Mr. Brooks also reiterated the Group's strong commitment to collaborate with the Government to develop the construction sector; to revisit the award of acreage for mining of aggregate and identification of suitable land for development –
" Critical to the success of this undertaking is the provision of fertile, productive acreage for winning high quality aggregate in the volumes required to ensure sustainability and proper plant utilization."
Mr. Brooks further stressed that the timely actioning of this initiative was critical to the containment of inflation, continued employment and further investment and development of the indigenous export sector.
First Concrete Blocks rolling off BESTCRETE's Colombia 1600 Machine


In his feature address, Minister Rowley spoke of the great demand for concrete blocks in the local market and that previously the Government of Trinidad and Tobago was exploring overseas suppliers to meet the high local demand. He highly commended ANSA McAL and ABEL/ BESCRETE in assuming its role in the national development by investing in plant production to meet the needs of the demand.

"I am increasing pleased that our local business houses invest significant amounts of money to increase plant production… to increase productivity… to treat with national development at the local level."
He also praised the ANSA McAL Group, that it had created its own VISION 2010 which demonstrated that it would play its part to take Trinidad and Tobago to developed nation status before the year 2020. He further congratulated the company's free concrete masonry programme initiative, stating that-
".. such (training) programmes are cirtical contributors to the national landscape."
Bestcrete Limited is the leading national manufacturer and supplier of a complete range of concrete products, systems and solutions. With operations in Trinidad, production facilities at Bestcrete presently include six (6) fully functional plants, with the most recent upgrade making it one of the most modern plants in the Caribbean. All Bestcrete products are manufactured to internationally accepted standards, with the company being ISO 9001 – 2000 certified.