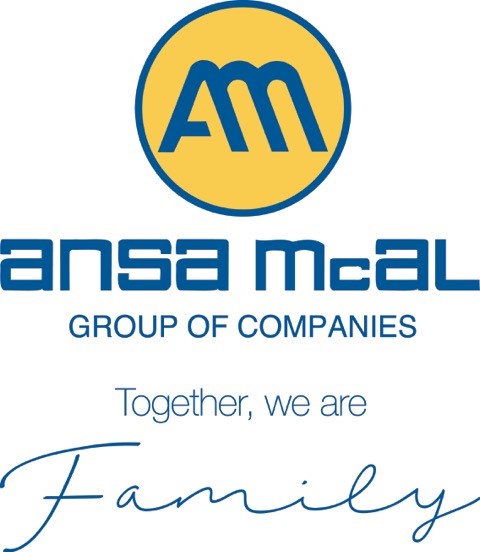 ANSA McAL Executive: No winner in TCL strike
ANSA McAL's Group Chief Operating Officer – Gerry Brooks (second from left) chats with Sector Head – Retail, Services & Media, ANSA McAL Ltd, David Inglefield (left) Chairman of the Trinidad and Tobago Union Club (TTUC), Brett Hobday and TTUC President Anthony Beaubrun, after a luncheon meeting at Nicholas Towers, Port-of-Spain on April 18, 2012.
ANSA McAL's Chief Operating Officer, Gerry Brooks, said on April 18, 2012 that no sector in the country will benefit from the ongoing strike at Trinidad Cement Ltd (TCL). Speaking yesterday at a luncheon guest lecture series hosted by the Union Club, Nicholas Towers, Port-of-Spain, Brooks said one of the things affecting the economy in 2012 was the impact of the TCL strike on the construction sector.
He said no one would win from the TCL situation as the company's shareholders would have lost a significant percentage of their investment and the striking workers would have lost wages. "If you are an employee of TCL, you would want to go back to work," Brooks said.
"As a shareholder you are losing, as a bondholder you lose, as an employee you lose." He said the situation at TCL cannot continue as it is going. "If we continue on a 90-day trend from February 27, when the strike commenced to May 27, at the country level the Growth Domestic Product (GDP) will be compromised, at the construction level also.
"This is a situation where the Chamber's call is absolutely correct, that there needs to be the intervention under Section 65 of the Industrial Relations Act to avoid it further affecting shareholders, bondholders, distributors, employees and the national community," he said.
He also called for a midyear report from Finance Minister Winston Dookeran. "We are exactly at the midpoint of the fiscal year…Now is an excellent time for the minister to give a midterm report, Brooks said. He spoke about a comprehensive crime plan, diversification, the stock exchange and small and medium-size businesses.
"Now one of the big challenges we face locally is one of business confidence," he said. On the Clico issue, Brooks suggested moving the Clico inquiry to the office of the Director of Public Prosecutions (DPP). "While Clico has been taken off the table in terms of dealing with the depositors of Clico, in my view we need to move Clico from the Commission of Enquiry, which is a very expensive engagement, to the DPP's office," he said.
"We need to examine things like breaches of company law. "We need to have a clear example in T&T so future persons who engage in that type of activity will have public outrage to suffer."
Trinidad Guardian
April 19, 2012