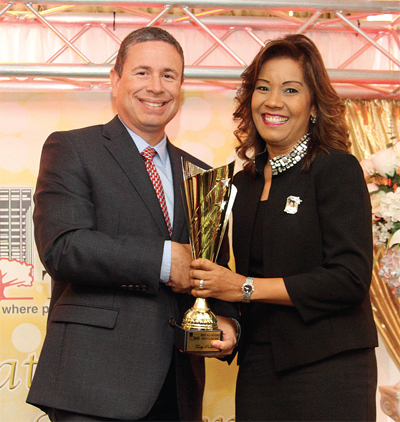 TATIL's Sumairsingh: Switch from imported to local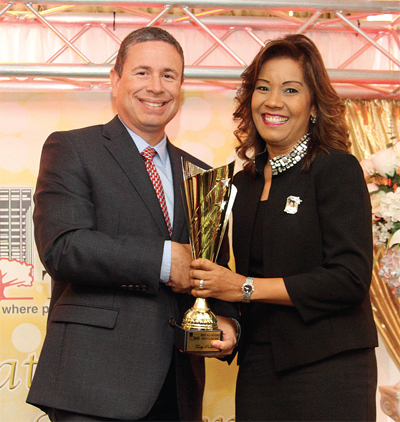 Chip Sa Gomes, chairman of Tatil and Tatil Life, presents a trophy to Trudy Pedro, 2015 Best All Round Producer during the insurance company's Annual Salespersons Awards on Friday 18th March, 2016 at the Trinidad Hilton and Conference Centre. PHOTO: SEAN NERO
There is no likelihood of a food shortage if consumers shift their tastes from imported to local items, Executive Director of the Ansa McAL Group of Companies Ray Sumairsingh said on Friday 18th March, 2016.
"We have been living on the exotic end of the scale, we have suppressed our own natural production. I think once you start adjusting to the reality that imported goods and services become more expensive, we start finding creative ways to increase our output," he said.
Sumairsingh, speaking to reporters following yesterday's Tatil and Tatil Life Agent Awards at the Trinidad Hilton and Conference Centre, was commenting on concerns expressed by supermarkets and food importers of a shortage because of ongoing problems with the supply of foreign exchange.
Sumairsingh said he is confident the country can weather the current recession because the economy has not experienced declines in skills and competences
"We have done this before we have been through two cycles before. The first was at the end of the late George Chambers era and the start of the NAR regime. We were in serious devaluation, shortages. We managed through that very well and I see no reason now, where we are at a higher level of output. Its really a good opportunity to restart ourselves the way we conducted ourselves in the last five years."
"Money gets a little scarce now, but we've not gone backwards in terms of skills and capabilities. If you have a business and you manage your costs well you will gradually improve," he said.
Commenting on the strength of the insurance company, Sumairsingh said Tatil has about 40,000 policyholders and Tatil life approximately 70,000.
"If you multiply that by the families involved and take out the commonalities you'll find that we have a captive audience of over 100,000 people. We've used that base selectively and sensibly, not to compromise our security at all. If people look carefully they will find that we have a good product offering in the T&T market."
He said the biggest challenge for the industry is investment returns.
"All policyholders liabilities are matched with investments. If investments are giving you mediocre or low rates of return it makes the outlook that much more difficult in terms of meeting the liabilities when they occur. That's why capital adequacy is so important, that's why the money you plough back into the company is so important," he said.
Annuities have not taken a blow because it is still the biggest channel of business."
Sumairsingh said the company might be interested in Clico and its assets.
"We understand that its in the market. The Central Bank who has had it under management for a while cleaned up the things that needed cleaning up, so given the opportunity we'll gladly take a look," he said.
Story by: Nadaleen Singh
Published: Saturday, March 19, 2016 from the Trinidad Guardian Newspapers