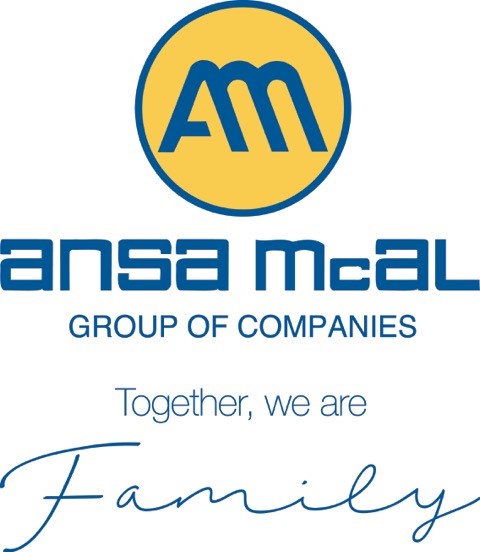 The year under review was of particular National significance as it marked the 50th Anniversary of the Independence of Trinidad & Tobago. While this historic achievement was cause for joyful celebration of this milestone across the country, it was also a time to reflect on the opportunities for our people and the nation in the decades ahead.
With great pride we recalled the successes earned by the sacrifice, hard work and dedication of so many of our 'heroes' and 'nation builders' in the last five decades. We applauded the attainments in the fields of sport, arts and entertainment, education, industry, commerce and reflected that in spite of the social, economic and political challenges of an emerging Nation, we have preserved our cherished freedom and democracy.
It is in this spirit, that I take great pride to present my 14th report as Group Chairman and Chief Executive as the Group's 131st year was also marked by many accomplishments and celebrations and value creation for our stakeholders and customers.
FINANCIAL PERFORMANCE
For yet another year your Group has delivered strong growth in the face of tough economic conditions that continue to prevail across the Region. I am pleased to report revenues of $5.9 billion an improvement of 12% on 2011 and PBT of $952 million up 5% on prior year. Earnings per share (EPS) of $3.69 also improved by 7% over the previous period and total assets now stand at $11.3 billion.
At this point in our history, the Group and every Sector in the Group is stronger and healthier than ever before. We have repaid approximately $1 billion of long-term debt over the last five years reducing our finance costs by $49 million or 45%.
Our gearing ratio is at 0.3%, cash generation from operations has improved by 4% and debt capacity can comfortably support our business growth and investment strategy in the coming years. Our Executive teams are sharply focused on improving execution and remain committed to the core values that have honed our competitiveness and sustained growth from inception and particularly in less than favourable market conditions.
SECTOR REVIEW
AUTOMOTIVE SECTOR – RAY A. SUMAIRSINGH
In 2012, the Automotive Sector launched Trafalgar Motors, located on the corner of Charles and Melborne Streets, Port of Spain, the new showroom of our luxurious Jaguar, Land Rover and Range Rover brands. We also unveiled the new 2012 Ford Focus Sedan, the world's top selling car, at the Ford Showroom on Richmond Street.
BEVERAGE SECTOR – ANDREW SABGA
A significant investment was made in the Beverage Sector as Carib Brewery undertook a monumental task where three new stainless steel fermenting tanks, each with a riding height of 24ft and a standing height of 74ft, were installed. The investment signified our drive to expand brewing capacity and increased efficiency to meet the growing demands for our brands at home and in our export markets. We also signed a regional partnership agreement with Heineken and our new Heineken distribution was rolled out in Trinidad & Tobago, Barbados, Guyana, Grenada and St. Kitts & Nevis. This year also marked the launch of a new multimedia campaign to support our flagship Carib Beer brand that boosted interest and sales in the under 25 age group.
DISTRIBUTION SECTOR – JOSE NIVET
The Distribution Sector has continued to reshape and reposition its business model in response to the evolution of the retail trade and customer expectations. The acquisition of TWEE Duty Free Shop at PIA deepened our involvement in the retail space and the merging of our Barbados power houses into one entity Brydens Stokes, one of the largest distribution operations in Barbados, has improved our operational efficiencies and the service levels in all channels. Our Guyana distribution business experienced another consecutive year of double digit growth.
FINANCIAL SERVICES SECTOR – CHIP SA GOMES
In the Financial Services Sector, Tatil celebrated its 50th Anniversary of providing financial security to policy holders in Trinidad and Tobago. The Sector also restructured its Finance & Merchant Bank business in Barbados to respond to market conditions and improve the business performance. Several new leadership appointments were made in the sector, deepening the mix of talent, energy and experience. We congratulate Mr. Chip Sa Gomes in his new role as Sector Head, effective March 2013 and are confident of the Sector's future. We wish to thank Mr. Nigel Romano for his contribution to the Sector and extend best wishes.
MANUFACTURING SECTOR – GERRY C. BROOKS
Companies in the Manufacturing Sector continued to improve market share in key segments in the local and export markets, while ANSA Chemicals expanded production capabilities by 20% and ABEL Building Solutions introduced a cutting edge clay block production facility – the first of its kind in the Caribbean and Central America, to provide customers with a wider range of construction products.
MEDIA AND SERVICES SECTOR – DAVID G. INGLEFIELD
In the Media Sector, our strategy for developing new and improved content across Guardian Media Ltd continued in 2012. Our Editorial team was strengthened to deliver fresh, accurate and hard-hitting journalism to our readers. CNC3 expanded production capabilities producing 'TASTE', a dynamic local cooking series and Digicel Rising Stars, both produced to the highest international standards. CNC3 also attained the number one position in Prime Time, while Slam 100.5FM expanded the TBC portfolio reach into the urban youth market and is the only radio station to attain 50,000 social media hits in less than one year. GML now reaches 700,000 customers every day!
Service delivery and financial performance in the Services Sector has been addressed through restructuring and refocusing key business units on the core competencies that deliver values to their customers. ANSA McAL US Inc (AMUS), a global supply chain management company, with warehouses in Miami, offers world-class global procurement and distribution services to the Group and customers in the Caribbean.
RETAIL SECTOR – ANEAL MAHARAJ
The Retail Sector expanded from our supermarket operations in Barbados by the acquisition of the very successful Standard Distributors Group (Standard), which includes Standard Trinidad, Standard Barbados and Bell Furniture. With twelve retail stores, product offerings have expanded to include world-class brands such as GE, Samsung, LG, Whirlpool, Sony and Frigidaire. Performance is already beginning to improve.
Even though your Group has delivered a good performance in every Sector, our Executives and their teams remain restless in the search for new business opportunities and for ways to improve performance. In 2012, the Group invested $410 million in new projects that are completed or are actively being implemented that will upgrade our production capacity or improve efficiency and competitiveness in our domestic and export markets.
SHAREHOLDER VALUE
I am pleased to report that Shareholders have continued to benefit from investments in AML as once again our stock has responded positively to the Group's reported quarterly performance in 2012. Our share price increased from $55.00 to $66.60 in 2012, representing a 21% capital appreciation. This together with a dividend of $1.10 has delivered an increase in shareholder returns at the end of 2012 of 22%+.
CORPORATE RESPONSIBILITY
The Group remained heavily committed to our Corporate Social Responsibility by support for diverse activities and projects throughout the length and breadth of Trinidad & Tobago and the region. The advent of the 50th Anniversary of Independence in Trinidad & Tobago was the highlight for us in 2012. Themed "With Boundless Faith", our Group aligned its own celebration of this historic event in a unique manner that matched the exuberance of the moment with the reverence for the icons whose vision, initiative, fortitude and effort, built our country over the last half century.
We unveiled a special logo featuring the hummingbird in flight, which signified the freedom that Trinidad & Tobago achieved through Independence and the forward-thinking principles upon which our nation's development was built. The upwelling of patriotism was given expression by 5,000 of our employees displaying the National Flag, provided by the Group, at their homes. All our locations in Trinidad & Tobago were expertly decorated and draped in our national colors.
At a moving ceremony on the eve of Independence, the ANSA McAL Time Capsule: 2012-2062, containing the aspirations for the next fifty years, of fifty Trinidad & Tobago nationals, drawn from all walks of life, was encased in a plinth on the grounds at our Tatil Building headquarters. I am grateful to the Corporate Communications Department for creating such a meaningful event and proud to have shared this celebration with our ANSA McAL family and the Nation.
An important component of the Group's success continues to be the partnerships fostered within communities, stakeholders, NGOs and amongst our own people. 2012 was no different as the Group and its subsidiaries invested over eight million dollars towards sustainable community projects and sponsorships in the areas of sport, education and training, the environment, arts and culture.
We take particular pride in the continued sponsorship of the Anthony N. Sabga Caribbean Awards for Excellence which started in 2005 and continues to recognise indigenous excellence in fields of Science and Technology; Arts and Letters and Public and Civic contributions. To date, we have contributed close to nine million dollars towards the Foundation and recognised over fifteen Caricom Nationals spanning Trinidad & Tobago, Dominica, Jamaica, Guyana, Grenada, Barbados, St Vincent, St Kitts & Nevis and St Lucia.
OUR PEOPLE
At ANSA McAL, we continue to recognise that it is the talent, strength and resilience of our people that is the foundation on which we continue to grow the business. Over 8,180 years of service was delivered by over three hundred employees who were honoured at our Long Service and Group Awards held at the Trinidad Hilton and Conference Centre. A new award category was introduced where the top performer in each of the eight sectors were recognised for excelling in their field.
The continued emphasis of carefully aligning people's aptitude and qualifications to the goals of the organisation is transforming the way we manage and grow our most valuable assets. We believe, as we have expressed in our 'Leap of Faith' commitment to "get the people basics right" in 2011, that our investment in our people is an investment in the future of the Group, and will enrich the investment that over 4,000 shareholders have placed in our care.
Group Human Resources Director, Mrs. Teresa White-Driver will expand on the progress of the key initiatives that have been implemented since 2011. We remain committed to not only recruit and reward the best people but to grow talent at home, providing a clear pathway to upward mobility within the Group throughout the region.
In 2012, Mr. Aneal Maharaj was appointed the new Sector Head of Retail, in addition to his duties as Group Finance Director and we are confident he will also add value to the business in this sector. Additionally, the Group's shareholders approved the addition of former Citibank Executive, Mr. Steve Bideshi as a Director of the Company's Parent Board; we welcome him and look forward to his contribution.
Congratulations to Mr. Andrew Sabga on his re-election as President of the Trinidad & Tobago Chamber of Commerce in 2012 for a second term. As you read this report, the people of ANSA McAL are already at full stride focused on 'winning' our goals one quarter at a time for 2013. As I move around the Group visiting the businesses, I feel an energy and a momentum that I believe is fueled by the achievements made in 2012, a year that was predicted to be sub- optimal for the country and region.
I feel privileged to head an organisation as diverse as we are, and proud of the accomplishment of our people. As our 'Leap of Faith' covenant enters its second year, we have made good progress on our commitments – Getting the People Basics Right – Building an Entrepreneurial Culture – Excellence in Execution, but we do all recognise there is still lots of room to improve.
I am therefore confident that your Group will continue to be propelled by the energy and innovation of our people and will deliver growth and superior returns in the years ahead. In closing, let me also take this opportunity to thank our Parent Board members and my Executive Team for their support and dedication to our shared goals and for the achievements in 2012.
A. Norman Sabga
Chairman & Chief Executive