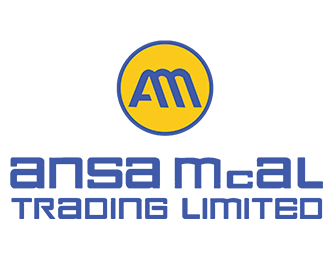 ANSA McAL Trading Limited

For thirty years, ANSA McAL Trading Ltd. (AMTL), has successfully provided Guyanese consumers with the highest quality in customer service, distribution, and corporate service. AMTL is recognized as one of the leading distributing companies in Guyana because of their unbeatable service to approximately 95% of the population with hundreds of products spread across four major divisions ranging from Beverages, Consumer Goods, Health and Wellness, and Construction Solutions.
Today, ANSA McAL Trading Ltd. has three locations where we provide easy access to consumers from warehouses with adequate storage capacity with all AMTL's distributing products. AMTL's main branch, located at Beterverwagting ECD, facilitates its main office, a modern, state-of-the-art warehouse with a storage capacity of approximately 100,000 sq ft. and a Mini Mart. Meanwhile, AMTL's branch at Bartica consists of a depot of approximately 4,000sq ft. that supplies businesses in the entire region. Their new location at Palmyra, Berbice houses a Mini Mart, ANSA Motors, the Colour Shop, and a warehouse of storage capacity estimated to be 10,800 sq ft.
Since the inception of AMTL's journey in Guyana, AMTL has taken care of its employees through numerous higher educational training programs, Rewards and Recognition Programs and over 2 billion towards a robust Corporate Social Responsibility program.
As the first subsidiary company of The ANSA McAL Group of Companies in Guyana, ANSA McAL Trading Ltd., has a rich heritage within the Group. The company's outstanding performances over the three decades have paved the way for the establishment of other subsidiaries within the conglomerate in Guyana. With a management team comprising the country's most qualified and talented leaders in the corporate sector, Managing Director, Troy Cadogan receives the support needed to lead AMTL effectively.
Beverage
AMTL has a notoriety for introducing to Guyana world-class beverages that distinguish the company from others in the industry. Their beverage portfolio includes a superior lineup of the brewery, non-alcoholic drinks and wines and spirits that embody diverse premium brands from suppliers best in class within the region and internationally.
Food and Consumer Goods
This Division consists of products varying from Procter and Gamble consumer goods to a considerable extent of food products like Bumblebee's newly added snacks to its line of products. A cold storage area was also set up in 2017 to accommodate sausages, fries, chocolates, and other products, keeping with our ongoing expansion plans.
Health and Wellness
Our Health and Wellness Division contains a first-class cold storage capacity that hosts over 300 SKUS from leading international pharmaceutical companies. Through highly trained pharmacists, these brands are made available at depots at Georgetown, Berbice and Bartica.
Construction Solutions
The Construction Solutions Division was introduced in 2007 and offered Penta Paints, pavers, cladding and windows. The ANSA clay blocks continue faithfully gaining local prominence as it is light in weight but with impressive strength, water and fire-resistant, and have a remarkable ability to deflect heat as opposed to possible alternatives that naturally absorb heat.
AMTL is a proud distributor of the following brands:
Beverage – Tropical Rhythm, Grace Peanut Punch, Icool Water, Icool Juice, Rush, Lucozade, Heineken, Red Stripe, Dragon Stout, Magnum, Campari International, Hennessy, Dewar's, Moet and Chandon, Eminente, Belvedere Vodka, Aperol Spritz, Prosecco, Cavicchioli, Folonari, Verdi, Toselli, Reserva, Tres Medallas, etc.
Food and Consumer – Bumblebee, Pringles, Mak-C, Chief, Matouks, Palermo, Tastee, Hefty, Bon, Garden Foods, Chef's Fries, Cheddar Cheese, Iceland, Melo, Trinchloro, Farmhouse, Tastee, Sqezy, Discilin, Arial, Pampers, Downy, Gain, Tide, etc.
Health and Wellness – OTC, GNC, Health Plus, BemStar, Ryvis, Baxter, Alston, Vizulize, Olilo Gold, etc.
Construction Solutions – Penta, Berger, Sissons, Abel Clay Blocks etc. To commemorate ANSA McAL Trading Ltd.'s monumental 30th-anniversary in 2022, the company launched two retail stores, ANSA Mini Mart, located at 60-63 Industrial Site, Beterverwagting, East Coast Demerara and a Mini Mart, located at their most recent branch in Palmyra, Berbice. Both retail stores provide customers with a wide range of products and trained and courteous staff in convenient and comfortable retail environments. The company's retail venture highlights its commitment towards diversifying and expanding Guyana's landscape. Location
ANSA McAL Trading Limited Head Office
Address:
60-63 Beterverwagting, East Coast Demerara, Guyana
Berbice
Address:
Lot 1 Palmyra East CanjeBerbice
Bartica
Address:
25 Fourth Avenue,Bartica

More companies in this sector