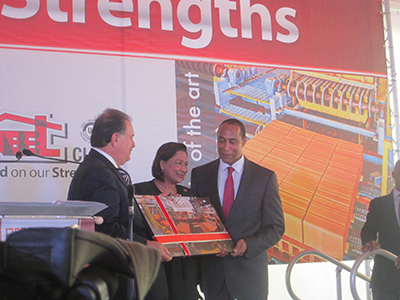 Abel unveils most modern clay factory in Americas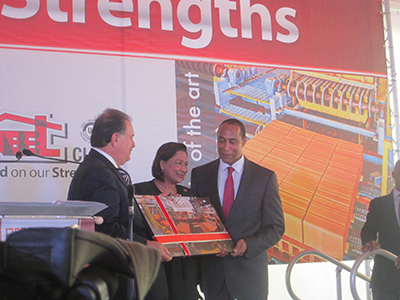 ANSA McAL Group Chairman & Chief Executive – Mr. A. Norman Sabga (left) and Group Chief Operating Officer & Sector Head of Manufacturing – Mr. Gerry C. Brooks present a token of appreciation to Prime Minister Kamla Persad-Bissessar on Wednesday 4th June 2014 at the Factory in Longdenville, Chaguanas.
Prime Minister Kamla Persad-Bissessar said she was pleased to hear ANSA McAL Group Chairman & Chief Executive Mr. A. Norman Sabga speak of his company's investment of $400 million in the new Abel Clay facility and the buoyancy of T&T's economy. The PM made the comment at the launch of the state-of-the art factory which replaced the old one at Depot Road, Longdenville, Chaguanas. Sabga said the decision to make such a huge investment was because of the growth of the economy.
Persad-Bissessar said the investment was made in the non-energy manufacturing sector by a local company global in its operations. She said the investment in the almost fully automated Italian-made clay factory was the largest in the non-energy sector in the Caribbean. The PM noted the plant was set up in Chaguanas where clay was plentiful and commended the ANSA McAL Group which she said possessed the rare quality of adapting to the environment.
Group chief operating officer and sector head–manufacturing and chairman of Abel Building Solutions (ABS) Gerry Brooks, said the new facility represented the dawn of a new era in manufacturing in the Caribbean and its state-of-the-art technology will revolutionise the construction industry. He said against that background it was fitting for Persad-Bissessar to give the feature address.
"Your presence, support for the local industry and your Government's often expressed support for the public/private partnership model will continue to lay the foundation for a revitalized and robust construction sector and economy," Brooks said Sabga said the new clay factory, the most modern in the Americas, has the capacity to produce 54 million blocks of a far superior quality annually.
The automated factory has replaced 150 workers Sabga said, something the company did not take lightly. He said jobs were found for the majority of displaced workers and they are still looking for jobs for the others. Sabga said well-trained and dedicated employees usually find work and observed there is a shortage of talented labour. He said customers and partners played an important part in the creation of the Chaguanas clay factory which has "remained rooted in local territory."
Caroni East MP Dr Tim Gopeesingh, Chaguanas East MP Stephen Cadiz, Works and Infrastructure Minister Dr Suruj Rambachan, Local Government Minister Marlene Coudray and Chaguanas Mayor Gopaul Boodan were at the launch.

Date published: Monday 9th June, 2014
Written by: Yvonne Baboolal
Trinidad Guardian Newspapers