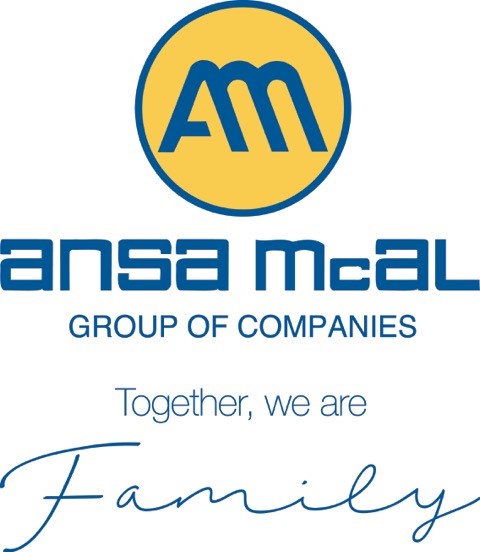 ANSA McAL Executive: Safety at work a shared responsibility
ANSA McAL Group HSSE Manager, Nixon Gango, at left, and Carib Glassworks Limited Managing Director, Roger Mew, right, with members of the Group's HSE Team on Monday.
HEALTH, safety and environment protection are as much the responsibility of the employer as it is the employee, according to Roger Mew, Managing Director of Carib Glassworks Limited. Mew was speaking at the official launch of the ANSA McAL Group's week-long commemoration of Safety Week on Monday 26 April 2010 at Carib Brewery.
"We believe that every employee has a responsibility to champion safe work practice and we empower each and every employee to achieve this responsibility through training and adherence to standard operating procedures and the benefits are clearly visible," Mew said.
Adding that the ANSA McAL Group has made significant strides in bringing down Lost Time Injuries (LTI), Mew said: "I can assure you that the management teams of Carib and Carib Glass, as well as other Group companies, are committed to the principle of providing a safe place for ALL, where safety is accorded the highest priority. No job is too important, that you cannot take time to do it safely."


Also speaking at the launch was Group HSSE Manager, Nixon Gango who revealed the Group's most recent safety achievement.
"It is a pleasure for me to let you know that two of our Group companies (ABEL and ANSA McAL Chemicals) have been chosen as finalists for the National Safety Award. This just goes to show how far we have come as a Group and what we can achieve by the continuous commitment to improving our safety systems."
Gango said the Group took the decision to widen its commemoration for this second year of activities into a company wide event which includes displays and exhibitions of safety equipment, presentations on safety and health in the workplace by various organisations and training sessions in life-saving techniques.
In addition to Carib Brewery, safety week displays and presentations were also made at ABEL and AMCO, both members of the ANSA McAL Group of Companies.