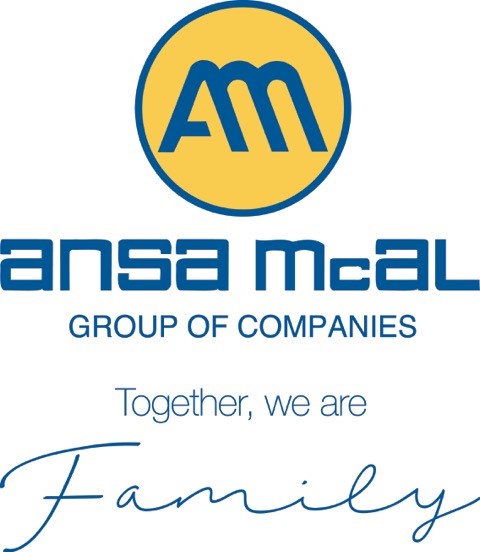 ANSA McAL head to Gov't: Review checks on foreign companies
Edward Kacal – Managing Director, ANSA Coating Limited (right) has the attention of (from left) Umanath Maharajh – Commercial Manager (Sissons), Gerry Brooks – Group Chief Operating Officer and Sector Head – Manufacturing (ANSA McAL Group of Companies), Marilyn Ganger – Sissons Chaguanas Colour Shop (Shop of the Year), Lisa Ramkissoon – Sissons Marabella Colour Shop (Third Place) and Michele Beharry – A Painter's Palette (Second Place). The occasion – ANSA Coatings Limited Gala Awards and Dinner held at the Hyatt Regency, Port of Spain on Friday 18th January, 2013.
Several T&T companies are being owed millions by foreign companies that set up operations here, enlist local service providers, but flee the jurisdiction before paying, says Gerry Brooks, chief operating officer and sector head for manufacturing with the ANSA McAL Group.
He has called on Government to quickly revise how foreign companies enter the market with the aim to safeguard the well-being of service-based companies and their employees. "We cannot afford to have in 2013, as the economy picks up, to have foreign companies come in, we render services to them and they flee the jurisdiction and we are not paid. There are cases like that as we speak…owing companies locally millions of dollars.
The message to Government is, you have to have a proper pre-qualification system. You have to have a proper bonding system because we must ensure that companies don't simply come in, collect money, do not finish the job, leave the jurisdiction and leave local providers hanging," he said.
Brooks was speaking at ANSA Coatings Ltd Gala Awards and Dinner held at the Hyatt Regency Trinidad on Dock Road in Port-of-Spain on Friday, where he then turned his attention to the existing plight of local contractors who are struggling to stay in business while awaiting outstanding money from the State.
"We are seeing increasing activity in the construction sector and one of the things we have to do in 2013 is be opportunistic. And, as we see more activity in the construction sector, there are a couple messages I think we need to send out to Government to ensure that some of the errors that occurred in 2004 to 2007 period don't reoccur.
"One of the main things that we have to do is ensure that as the construction sector expands and accelerates, there is more local content in the construction sector. We have the expertise, we have the experience."
Multi-million clay plant in 2013
The ANSA McAL Group has invested close to half a billion dollars towards establishing a clay plant in T&T, but that's not where the company's vision to revolutionise the local construction sector ends, says Brooks. The regional conglomerate has now entered the elevator and industrial fan business.
"Our clay plant is coming on stream in mid 2013. In the clay plant, we have invested $400 million, which is the single largest investment in the construction sector, and will produce a state-of-the art clay plant.
We are looking to convert the market from a concrete market to a clay market. We are seeking to do that because clay blocks are lighter, cool better and require less concrete in terms of laying. And if you have ever visited any site or any jurisdiction following an earthquake you will notice that the clay structures stand up a lot better," said Brooks.
He added, "Production is going to be two and a half times what we currently produce today. It means that in our clay business we are reaching far more customers and what we are going to be doing from a solutions standpoint is as we see more customers it will give us more opportunities in our windows business and our coatings business." Brooks also announced plans by ANSA McAL to enter the elevator business as well as industrial fans.
Photo & Story By: Sean Nero
Trinidad Guardian
January 21, 2013