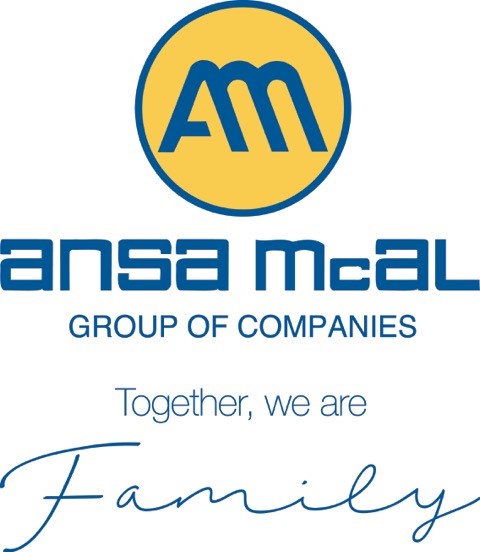 ANSA McAL honours 375 long serving employees
Andrea Lee Sing after receiving her award for 56 years of dedicated service at Standard Distributors Limited, with ANSA McAL Chairman Emeritus, Dr Anthony N. Sabga. Photo by Karla Ramoo
(Taken from the Trinidad Guardian – Reporting by Michelle Loubon)
A total of 375 employees from the various subsidiaries of the ANSA McAL Group of Companies was honoured by the group's executive management during a long-service awards ceremony at the Hyatt Regency Trinidad, Wrightson Road, Port-of-Spain. The event, themed, "Excellence in Action—A Celebration of Long-Service Distinction", was held on Tuesday night.
ANSA McAL Group Chairman and Chief Executive Officer, Norman Sabga, told guests the celebration was most fitting since "employees are our most valued asset." Hence, he said, the imminent establishment of the Anthony N Sabga Learning Resource Centre, in Champ Fleurs. Among those present were Chairman Emeritus, Dr Anthony N Sabga; ANSA McAL Group Chief Operating Officer, Gerry Brooks, and Sector Head, Financial Services, Ray Sumairsingh. The outstanding employees were honoured for serving faithfully for 25, 30, 35, 40, 45 and 50 years.
Standards' Distributors supervisor, Andrea Lee Sing, was honoured for her 56 years of service. Sabga said: "Today, ANSA McAL is a strong, vibrant and progressive company.
We owe this success to the dedication, resourcefulness, creativity and innovation of our employees, who work in our diversified group, and who bring specialised skills to our multi-faceted operations." He said ANSA McAL was committed to "mounting and nurturing progammes designed to enhance the value of human capital. "One of the key initiatives is to establish the Anthony N Sabga Learning Resource Centre. We hope this facility will play a pivotal role in upgrading the skills of employees to meet the new business challenges, brought about by the competitiveness of the new global market and technological changes," added Sabga. He also reminded the gathering of the company's core values — employee-centred, customer excellence, creativity and innovation, social responsibility and respect and trust.
The awardees:
25 years
ABEL
Noreen Hinkson
Alstons Marketing
Daniel Ramoutar
Deva Deo Persad
Preamraj Tulsie
Susan Ali.
ANSA McAL Limited
Sandra Joseph Farrell.
Ansa Technologies
Listra Dubay
Darren Mohammed
Ricardo Mohammed
Frank Soomair
Benjamin Suphal
Clyde Sant
Alstons Shipping
David Banfield
ANSA Automotive
Wade Charles
Seedath Samlal
George Joseph
Carib Brewery Limited
Anand Ramsaran
Anslim Serrette
Anthony John
Augustine Paul
Basdeo Seeramlal
Bernandette Joseph
Brian Providence
Colin Murray
David Bruno
David Smith
Desmond Shoy
Harrichanda Singh
Joel Lowman
Junior D' Abreau
Kalvin Adams
Kenwin Adams
Lennon Subar
Narinedath Maharaj
Praimnath Sookraj
Siewsraj Mohanlal
Sonny Mohammed
Vijaie Mahabir
Jenny-Ann Biltoo Ali
Aziz Ali
CDC/Carib Brewery
Bhagwandass Pancham
Christopher Pope
Curtis Wilson
David Sampath
Deendeyal Maharaj
Gerry Railwah
Herman John
Ian Cazeau
Jacqueline Ganeslal
Kenny Sanchez
Latchmedath Ramroop
Lincoln Marshall
Narine Gosein
Pooran Samaroo
Ramjit Nanoosingh
Randall Tikasingh
Richard Cobbler
Roopchand Benny
Roy Bachan
Salim Ali
Sundar Dhanai
Victor Hoolasie
Vinton Belmontes
Wayne Nero
Trinidad Publishing
Dave Hector
Suzanne Richardson
Rawle Sobers
Wayne Braithwaite
Gail Alexander
Anthony Daniel
Sandra Teixeira
Raymond Grant
Fitzroy Dove
Sunnilal Rampersad
Eddie Arneaud
Anthony Seegobin
Tatil
Joanne Williams
Ramdai Siewdial
Bernadette Phillip
Margaret Selkridge
Indra Bissram
Mary Mahabirsingh
Joseph Awah
Claudine Allert
Cynthia Carr Hosten
Sabrina Gosein
Allison Seales
Ruby Hansraj
Larry Sammy
Elizabeth Ramoo-Achaibar
Keith Albert
Courthney Barker
Wayne Maharaj
Flora Maharaj
Yazid Mohammed
Judy Ranville
Garth Richards
Wayne Joseph Sylvester
Gail Ragoobar
Shyam Seenath
Celia Boodoosingh
Penta
Chester Shoy
Angus Thompson
Kamini Ackbarali
Marcel St Martin
Gregory Akow
Cherry Ann Joachim Kowlessar
Pamela Ramjattan
Donna Rodulfo
Kimraj Dass
Wendy De Leon
Carib Glassworks
Anthony Thompson
Aziz Alsaran
Bashram Rampersad
Clarence Sylvester
Clinton Browne
Clyde Abdulla
Denny Siewnarine
Denzil Brewster
Edward Durant
Ian Valere
Irvin Henry
Isaac Henry
Jason Phillip
Joel Somara
John Paul
Jose Veira
Kamal Maraj
Keith Montoute
CGL
Kumar Assing
Levi Modeste
Neshan Mohammed
Peter Tyson
Radica Singh
Richard Hernandez
Robert Phipps
Sahadeo Maharaj
Seymour Bradshaw
Timothy Andrews
Trevor Ashton
Vernon Jhangoor
Wayne Edwards
Willis George
Mc Enearney Business Machines
Annette Francis-Toussaint
Joy Thompson
Lutchmansingh Ramharack
Dhanraj Teemal
Michael Ruiz
30 years
ABEL
Betty Thomas
Andrew Beckles
Joan Alleyne-Bobb
Maria Jack
Vidhya Ali
Alstons
Ayoung Justin
Cuthbert Tracey
Jeffrey Singh
Indra Choyah
ANSA McAL Limited
Jose Nivet
Deputy Chairman ANSA McAL Ltd, David Sabga
Chandra Ramnarine
ANSA Merchant
Alecia Goodridge
Keith Joseph
Radha Ramphal
Alstons
Rosa Redon


ANSA Automotive
Roger Beddoe
Carib Brewery
Nizam Ali
Bhual Balloon
Keith Springer
Stephen Chin Fong
Virginia Clarke
Sylvester Lemessey
John Terrence D'Arceuil
Curtis Gytan
Marva Lewis
Gordon Hoade
Keith Pavy
Kerr Davis
David Kissoon
Stephen Diaz
Keith Findlay
Deolal James
Prakash Ramnarine
Johnny Modeste
Dindial Narine
Robert Reyes
CDC
Indar Persad Baksh
Keith Betaudier
Louis Babwah
Deonarine Bhagwandeen
Roopnarine Gattoo
Stephen Jankee
Sultan Khan
Ramdeo Lalla
Denise Clavery-Duke
Peter Mahabir
Evans Nedd
Francis Ramdial
Harrynarine Ramkissoon
Ramjattan Ramkissoon
Ramdeo Seegobin
Lennox Simon
Kenuth Stafford
Curtis Rudolfo
Gilbert Showers
Curtis Stuart
Lyndsay Flemming
Carib Glassworks
Kimraj Ramessar
Churaman Seenath
Krishendath Ramdeen
Serjard Ghanny
Carlton James
Deo Daniel Seenath
Edward Mondezie
Carlos Stoute
Theodore Mendez
Peter Augustine
Curtis Meloney
Sheralyn Delochan-Reyes
Anthony Bartholomew
Carib Glassworks
Christopher Mars
Bertrand Ramcharan
Thomas Baptiste
Steve Hazell
Jemmott Gerald
Remy Dookie
Charandat Subance
Joseph Arrindell
Peter Bartholomew
Sylvester Thomas
Ramesh Bedasie
Michael Adams
Roland Sebreth
Trinidad Publishing Company
Keith Emmanuel
Cynthia Browne-Moore
Meena Marin
Genniffa Mohammed
Sharon Narine
Tatil
Anthony de la Bastide
Susan Moreno
Patsy Boland
Teresa Rodriquez
Louann Sandiford
Gail Biggette
Marlene Huggins
Ann Loshon
Rose Lee Kim
Diana Roland
Carol Yearwood
Donna Regis Cato
Standard Distributors
Lucreatia Ewing
Denise Reason
Abida Mohammed


Sissons
Daffodil Charles
Fazad John
Penta
Dave Ali
Eleanor Baksh
Victor Chadee
Mary Gomes
Odette Lewis
MBM
Sookoor Edoo
Brian Trujillo
Marilyn Telesford
35 years
ABEL
Donna Persad
Alstons
Keith Kurbanali
Susan Williams
Ramcharan Bedasie
Ashrualah Hosein
Alston Patron
Evans Bissoon
Anthony Peters
ANSA McAL Limited
Maria Superville-Neilson
Josephine Chang Wai
Alstons Shipping
Ishra Hassanali Shorab
Kenny Fraser
ANSA Automotive
Arjune Batath
Rahamut Ali
CDC
Ganga Bhagwatsaran
Leo Best
Devanand Beharry
Felwith Burke
Gregory David
Jeffery Joseph
Sterlyn Hayling
Andrew Kalicharan
Ken King
Ulric Reid
Basdeo Ragbir
Anand Ramkay
Clyde Bonny Richards
Anthony Samuel
Francis Scott
Lenny Valere
Jacqueline Vallie
Peter Nandlal
Dennis Copland
Francis Maharaj
Carib Glassworks
Calvin Browne
Shaheed Ishmael
Michael Sooklal
Joseph Somara
Herbert Sydney
Stephen Maharaj
Trinidad Publishing
Marcia Arismendez
Janice Regis
Tatil
Charmaine Gerald
Bernadette Alleng
Penta
Marceline Auguste
Julian Prudent
Ethelbert Torres
MBM
Mooniram Mohanlal
40 years
ABEL
Robert Barrow
Alstons
Arnim Brown
Trinidad Publishing
Wayne Headley
TPC (radio division)
George Chow
Lineus George
Richard Huggins
Standard Distributors
Sylvia Totesau
Penta
Patrick Joseph
Tatil
Heather Gerold
45 years
ANSA Automotive

Lister De Jean
Alstons Shipping
David Morrin
56 years
Andrea Lee Sing