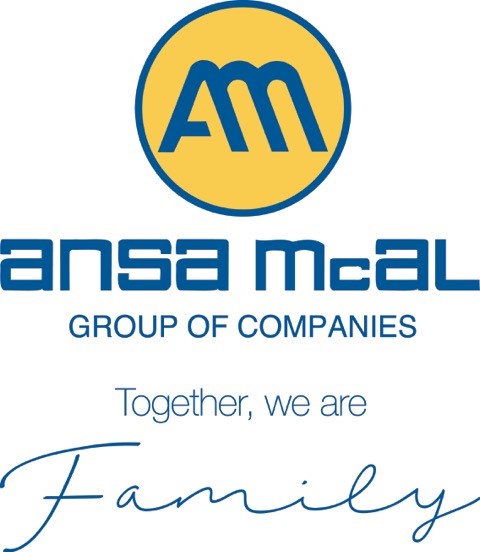 ANSA McAL launches Group Awards, Core Values programmes in Guyana
The unveiling of the ANSA McAL Group Core Values in Guyana. From left are Group Chief Operating Officer, Gerry C. Brooks; ANSA McAL Trading Limited Managing Director, Beverley Harper; Group Corporate Communications Manager, Nicole Dyer-Griffith, and Group HR Consultant, Ken Mahabir
***********
13 November 2009, Georgetown: ANSA McAL Executives across the Western Hemisphere are being urged to boldly seek, negotiate and penetrate new markets, particularly in Central and South America.
The call came from Group Chief Operating Officer, Gerry C. Brooks as he addressed Executives and staff at ANSA McAL Trading Limited, Guyana on Friday 13 November 2009.
Brooks led the Head Office team to Guyana on Friday to officially launch two major initiatives – The Group Awards programme and the Group Core Values Programme.
In early October 2009, the Group Awards and Core Values programmes were launched at the Port of Spain based Head Office, with Group Chairman and Chief Executive, A. Norman Sabga describing the initiatives as a means of creating, encouraging, instilling and rewarding excellence.
He likened Core Values – Employee Centred; Customer Excellence; Creativity & Innovation; Social Responsibility; Respect & Trust – to the DNA of the Group, saying that achieving excellence, based on a commitment to core values is the way in which the ANSA McAL Group must always approach all aspects of its operations.
In Guyana, Brooks urged Executives and staff to integrate Core Values and rewarding excellence into every aspect of its business operation and in moving forward
"It is business unusual! Let's be bold and penetrate neighbouring new markets in Central and South. Let us continue to explore new opportunities and inject excitement into the penetration of new markets."
He added: "Do not fall into the trap of 'we're doing well; we are okay'. I ask you to revisit it and become hungrier through the organisation…Let's take preemptive action to avoid hits, surprises and provisions."
Brooks linked the conglomerate's Group Award's initiative to a determined effort to reward excellence and provide the most enriching environment for all staff.
Echoing the comments were Group HR Consultant, Ken Mahabir, who said ANSA McAL's commitment to the Core Values represented a dedication to ensuring that the centerpiece of all growth and development strategies would always be the employee.
ANSA McAL Trading Limited Managing Director, Beverley Harper thanked the Group Head Office officials for continued support in the Guyana company's growth strategies and assured the company was well on its way to surpassing forecasted revenue targets for 2009.
In Guyana, ANSA McAL Trading Limited is one of the foremost distribution companies, supplying some of the most respected brands to households of the South American country. The company added to its list of premier brands, the Italian wine, Reunite, with a launch and wine tasting on Friday evening.