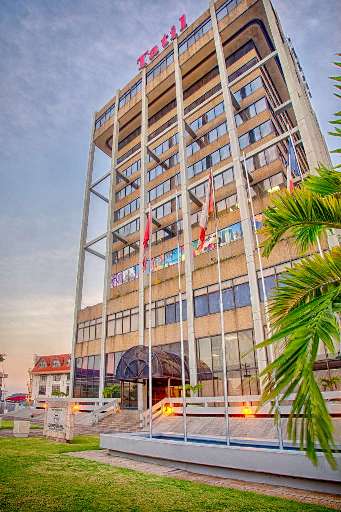 ANSA — Methodically building its base…
Overview
Total assets of AMBL climbed from the restated $5.5 billion as at December 2012 to $5.9 billion as at the end of June 2013; this represents an improvement of 6.8 per cent. Total liabilities rose by 9 per cent from $4 billion as at December 2012 to $4.367 billion as at June 2013. Shareholders' equity also improved to $1.535 billion from the year-end balance of $1.522 billion.
Primarily due to unfavourable returns on its foreign (mostly, United States) investment portfolio, the profit attributable to shareholders declined from $79.3 million in the half-year to June 2012 to $73.1 million in the first six months of 2013. This reflected a shift in EPS from $0.93 in 2012 to $0.85 in the current period. The interim dividend of $0.15 remains unchanged and is likely to be paid in October.
Segmental results
The banking segment saw its operating income fall to $105.7 million from the $129.3 million earned for the same period in 2012. Total expense also declined, moving from the 2012 figure of $74.1 million to $54.4 million in the current half-year period.
Consequently, primary profit contracted from $55.2 million in 2012 to $51.3 million. However, dividend income, which paid in cash, from its Tatil subsidiary of $27.65 million in 2013 and $23.26 million in 2012, helped improve the comparative pre-tax profit figures; for 2013, this figure was $78.9 million while for 2012 it was $78.4 million.
Despite producing significantly lower operating income, the mutual funds segment delivered a respectable pre-tax profit of $1.1 million; this compares with a loss of $1.37 million incurred for the 2012 half-year. Total operating income contracted to $18.5 million from the prior half-year's $26.9 million. In a similar vein, expenses moved from the 2012 figure of $28.2 million to $17.1 million in the current period.
The life insurance segment reported a 6.2 per cent improvement in operating income, which moved from $93.75 million in the six months to June 2012 to $99.5 million in the current half-year. On the other hand, expenses increased at a slightly quicker pace, moving up by 6.5 per cent to $97 million from the comparative 2012 figure of $91 million. On that basis, pre-tax profits suffered a 5.5 per cent decline, moving from $2.72 million in 2012 to $2.57 million in the half-year to June 2013.
The general insurance segment delivered a 7.6 per cent improvement in its total operating income, moving to $103.4 million in the current period from the $96 million reported for the half-year to June 2012.
Unfortunately, expenses accelerated at a much faster clip; this measure moved from a 2012 base of $50.4 million to a 2013 figure of $63.6 million. Consequently, the primary profit measure fell to $39.8 million from the $45.7 million reported for the half-year to June 2012.
What helped improve the current period's result was the inclusion of a dividend from Tatil Life Assurance of $29.95 million, which was paid in the form of shares. This transaction boosted this segment's pre-tax profit for the current period up to $69.7 million.
Both this dividend and the one paid by Tatil to the banking parent are included under the eliminations segment. In total, eliminations in the current period amounted to $66.4 million with respect to income and $57.6 million relating to pre-tax profit.
The future
The bank expects that adverse market adjustments, which occurred in May and June 2013, would be corrected in the second half of the current year. In addition, during this period, it should complete the full acquisition of Consolidated Finance Company Ltd from its parent company, ANSA McAL Ltd. These developments should stimulate a much better performance in the second half of 2013.
The share price
AMBL's share price started 2013 at $37.23. Surprisingly, on April 4, 2013, the price jumped to $40.00 with only 43 shares changing hands. Almost one month later, the next trade took place on April 29, 2013. On that day, the price dropped by $1.50 to $38.50, with only 818 shares traded. The largest trading day for this year was on July 31, 2013, when 101,124 shares traded at $38.60. Last Friday, the share price closed at $38.58.
ANSA McAL Ltd owns 82.48 per cent of the total issued shares of 85,605,263. This concentration of ownership partly accounts for the infrequent trading activity in this security.
Business Guardian
Thursday 29th August, 2013