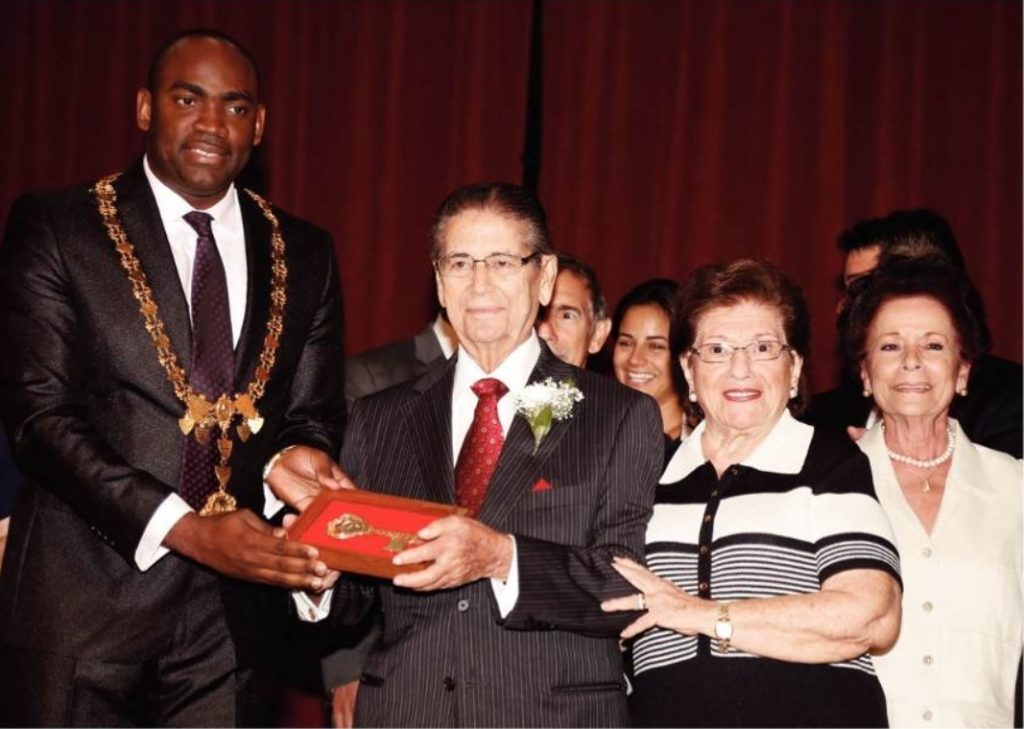 Port-of-Spain Mayor, Keron Valentine, left, presents Chairman Emeritus and founder of the ANSA McAL Group, Anthony Norman Sabga, with the Key to the City during a ceremony at City Hall, Port-of-Spain on Tuesday 23rd March, 2016. Also in photo are Sabga's wife, Minerva, second from right, and businesswoman Hannah Janoura, right. PHOTO: ABRAHAM DIAZ
Chairman Emeritus of the ANSA McAL Group of Companies, Dr Anthony N Sabga, was presented with the Key to the City of Port-of-Spain on Tuesday 23rd March, 2016.
Surrounded by his wife, Minerva, children and grandchildren during the short ceremony at the Port-of-Spain City Hall, Knox Street, the Sabga patriarch described the honour as one which no other award he had received before could be compared to.
Speaking briefly after receiving the Key, Sabga smiled serenely as he said: "This is a very, very special moment for me. I feel very proud to receive the Key to the City of Port-of-Spain, which I regard as a very special honour."
Asked about reviving the capital, Sabga said: "It is significant for me to think a little bit about what I can do for the city. I would like to think about it as there must be something."
Commenting on the recent expansion of the Chaguanas Borough following a visit last week, Sabga said while the capital city appeared to be lacking something, it was time to rally around it and that serious thought would be paid to what could be done.
Delivering brief remarks after presenting the Key, Port-of-Spain Mayor Keron Valentine said: "The award of the Key to the City is the highest and most prestigious award that the city bestows on someone for their sterling and invaluable contributions in various spheres.
"The Key is awarded to such an individual like you Dr Sabga, who has demonstrated the passion, vision and determination in the role you have employed significantly in the development of the capital city in ways too numerous to mention. Your dedication, enthusiasm and insight are really inspiring."
Valentine assured Sabga that the city of Port-of-Spain, the nation and the world at large had understood and recognised his vision, selflessness, humanitarian spirit, social work and efforts to transform the corporate world.
Due to celebrate his 93rd birthday next week, Sabga was also described by Valentine as a beacon of light whom others would want to emulate, as he was an icon and a living legacy for his family, employees and the wider community.
Also present was ANSA McAL Group Chairman and Chief Executive A Norman Sabga, and executives from the various ANSA McAL subsidiaries.
Story By: Anna-Lisa Paul
Published: Wednesday, March 23, 2016